Full Time
Natural Resources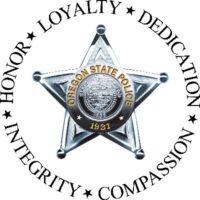 Website Oregon State Police
Honor, Loyalty, Dedication, Compassion, Integrity.
ENTRY-LEVEL TESTING (ELT) FOR SOUTHERN OREGON WILL BE PERFORMED IN MEDFORD ON SATURDAY, SEPTEMBER 2, 2023.
Click HERE for more details.
Requirements:
* US Citizen (by birth or naturalized) OR obtain citizenship within 18 months of hire.
* High school diploma or equivalent.
* Age 21 within 6 months of application (and before date of hire).
* Possess and maintain a valid driver's license.
Background, credit, and criminal history checks, a psychological exam, and an academic test will be done (the academic test may be waived for applicants with a Bachelor's Degree). Candidates are expected to meet all medical and physical requirements, be in good health, and display good moral character.
Physical fitness testing will be done:
– Push-ups, sit-ups, 300-meter sprint, 1.5 mile run.
DPSST certification is helpful but not required.
Job Duties:
* Protect people, property, and natural resources.
* Perform vehicle stops and searches.
* Interact with persons who may be intoxicated, hostile, under the influence of drugs, injured, suffering mental health issues, and in other difficult circumstances.
* Respond to calls for assistance.
* Investigate crimes in progress and crimes that have already been committed.
* Assist with medical and fire emergencies.
* Stop and/or direct traffic.
* Use firearms and/or pepper spray when necessary.
* Perform arrests; lodge arrestees in appropriate facilities.
* Interact with officials from other agencies, as well as with the general public.
* Other duties as required.
Hours: Full-time, to be arranged. May be any day of the week and anytime of the day or night. Overtime work may be required.
Starting Pay: $5,521 to $5,905 per month, depending on PERS status (may be more depending on experience). Recruit Troopers become eligible for PERS after six months of employment. A comprehensive benefits package is available, with possible incentives based on higher education, foreign language proficiency, and various certifications. All duty-related equipment is provided. Personal leave, sick leave, holidays, and vacation accrual are also provided.